Tidbits; What Sort of Porn Would Brits Miss The Most
In another asinine show of control over it's citizens,  the British government is once again telling them, who they consider STUPID, what they can and cannot watch when it comes to pornography and the type of depictions they can indulge. Let's remind ourselves of the key word here, depictions, meaning NOT REAL, fake, and if it is a real spanking, as we all know a lot of folks truly do like that sort of activity, including myself.  What pisses me off about all this is the self righteous religious, moralistic right thinking they continually know what's best for everyone else. When in actual fact they don't even know what's good for themselves!!
As of late we here in Canada have been battling the Harper Government over bill C-36 now approved for royal ascension on December 6th, a date that is so wrong on so many levels, not only for the bullshit bill to go live, but for what the date stands for, the École Polytechnique massacre and then followed by the International Day to End Violence Against Sex Workers on December 17.  Irony abounds, but so does the belief that citizens of the free world's countries don't know what's best for themselves except the idiot leaders!
Have a read and judge for yourself.
What sort of porn would Brits miss the most?
UK consumers of pornography clearly enjoy their S&M – prompting the government to introduce new regulations for video-on-demand material
04 DECEMBER 2014 | BY DAVID HUDSON in Gaystar News
The UK government have banned UK porn producers from producing certain types of online pornographic material, specifically anything that depicts 'the infliction of pain' and 'verbal and physical abuse'.
The aim of the Audiovisual Media Services Regulations Act is to impose greater scrutiny on producers of video-on-demand online porn, in the similar way to how those who produce DVDs are regulated by the British Board of Film Classification (BBFC).
Until now, video-on-demand porn has not been scrutinized by the BBFC in the same way as DVD.
The regulations will bind producers only, and will not affect what type of porn viewers watch online if they are watching porn from abroad.
The Independent says that practices that producers are now prohibited from depicting are listed as:
Spanking; Caning; Aggressive whipping; Penetration by any object 'associated with violence'; Physical or verbal abuse (regardless of if consensual); Urolagnia (known as 'water sports'); Role-playing as non-adults; Physical restraint; Humiliation; Female ejaculation; Strangulation; Facesitting; Fisting
But what will the UK market miss the most? Following news of the new restrictions, porn site Pornhub analyzed search results from its UK users to determine which of the prohibited practices the Brits were likely to miss the most.
When compared to the rest of the world, UK users were 201% more likely to search for 'caning', followed by 'spanking' (43% higher incidence).
In further bad news for producers of bondage and SM porn, 'Whipping' came out third on the list (35% higher incidence compared to rest of the world).
Below is a handy infographic depicting what the Brits would miss the most.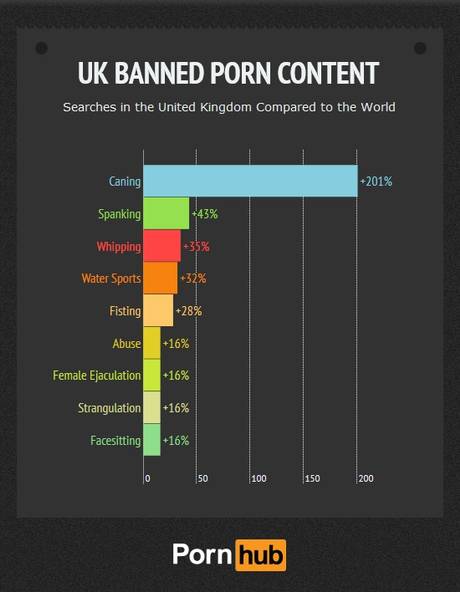 The regulations have been criticized by those working in the UK porn industry.
'Banning internet porn or "censoring" the content produced in the UK only creates more problems,' said Amory Peart, a 'queer pornographer of gay, str, bi and trans films' told GSN.
'Firstly, the companies that do produce gay porn in the UK will move production abroad, so the industry will decline. Secondly and more dangerously, it will spark off more underground and unsafe UK porn production by amateurs who do not follow health certificate check and condom usage.
'The choice of sexual acts banned seems random and silly. The problem lies in the ability to access porn. The government needs to fund a scheme similar to the gambling laws, by making access to UK hardcore only available to over 18's. These regulations cause more problems and solve none.'
Myles Jackman, an obscenity lawyer, said that his concern about the new regulations were about the wider issue of policing the internet.
'Pornography is the canary in the coalmine of free speech: it is the first freedom to die. If this assault on liberty is allowed to go unchallenged, other freedoms will fall as a consequence.
'This declaration of State censorship will affect millions of consenting adults who choose to view British pornography.'